Tea practice is a graceful and gentle offering of plant medicine that allows a deeper connection to the self, nature and those around you. It is my honor to be a student of the leaf and to share her spirit with you. In this practice, we will silently enjoy bowls of tea together knowing there is no right and there is no wrong. Tea gives us the opportunity to be fully present through a form of moving meditation. It is a great alternative to alcohol and a beautiful way to deeply connect with those around you. No two ceremonies are the same and each experience will give you the exact medicine you need for that moment in time. I deeply wish to share a bowl of tea with you!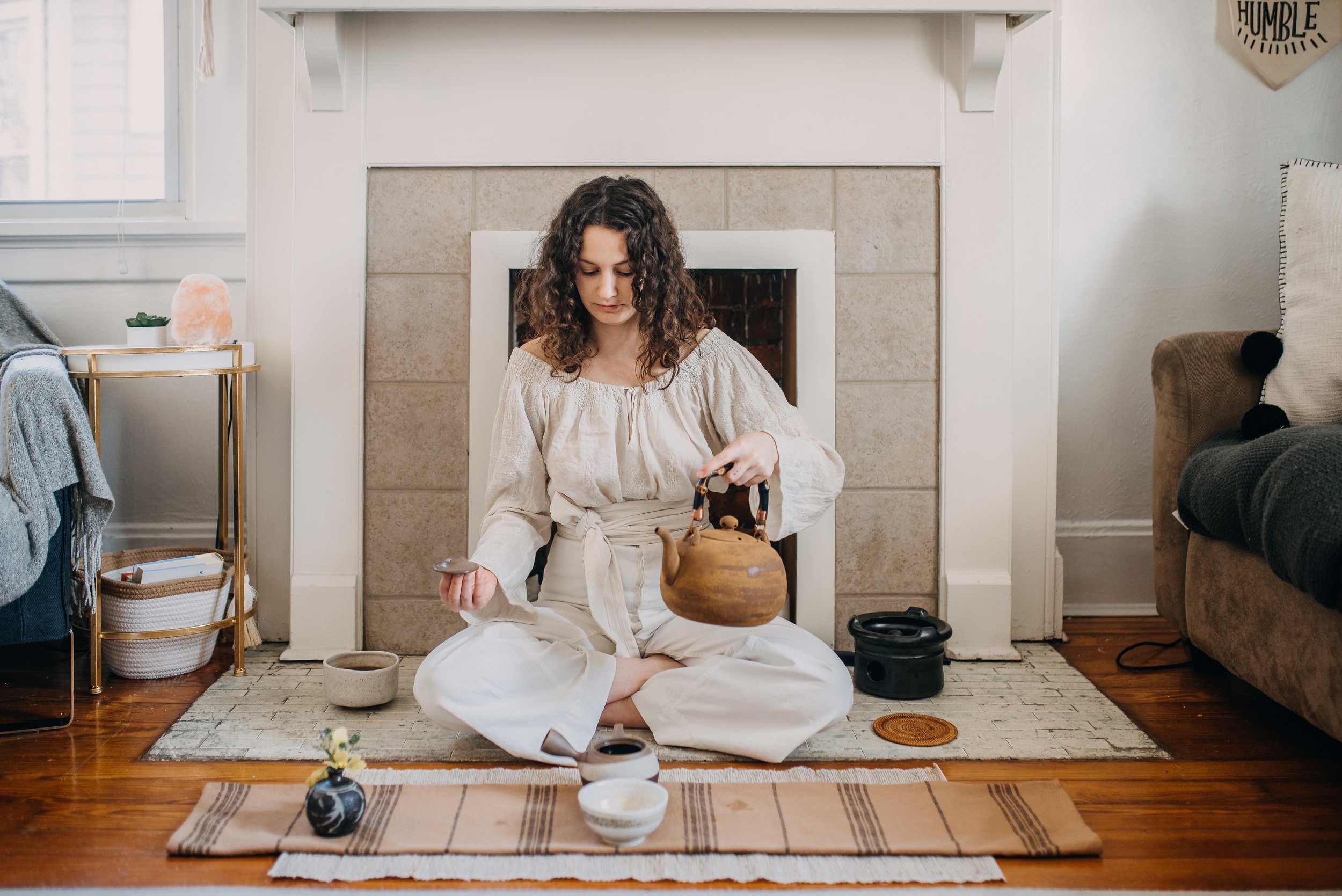 They say Tea is the great connector and what a beautiful way to celebrate and spend time with those you love. Gather together with friends and family to set intentions and connect from a deep heartfelt place. A personal tea ceremony can be experienced in your home and are ideal for a group of up to 10 people.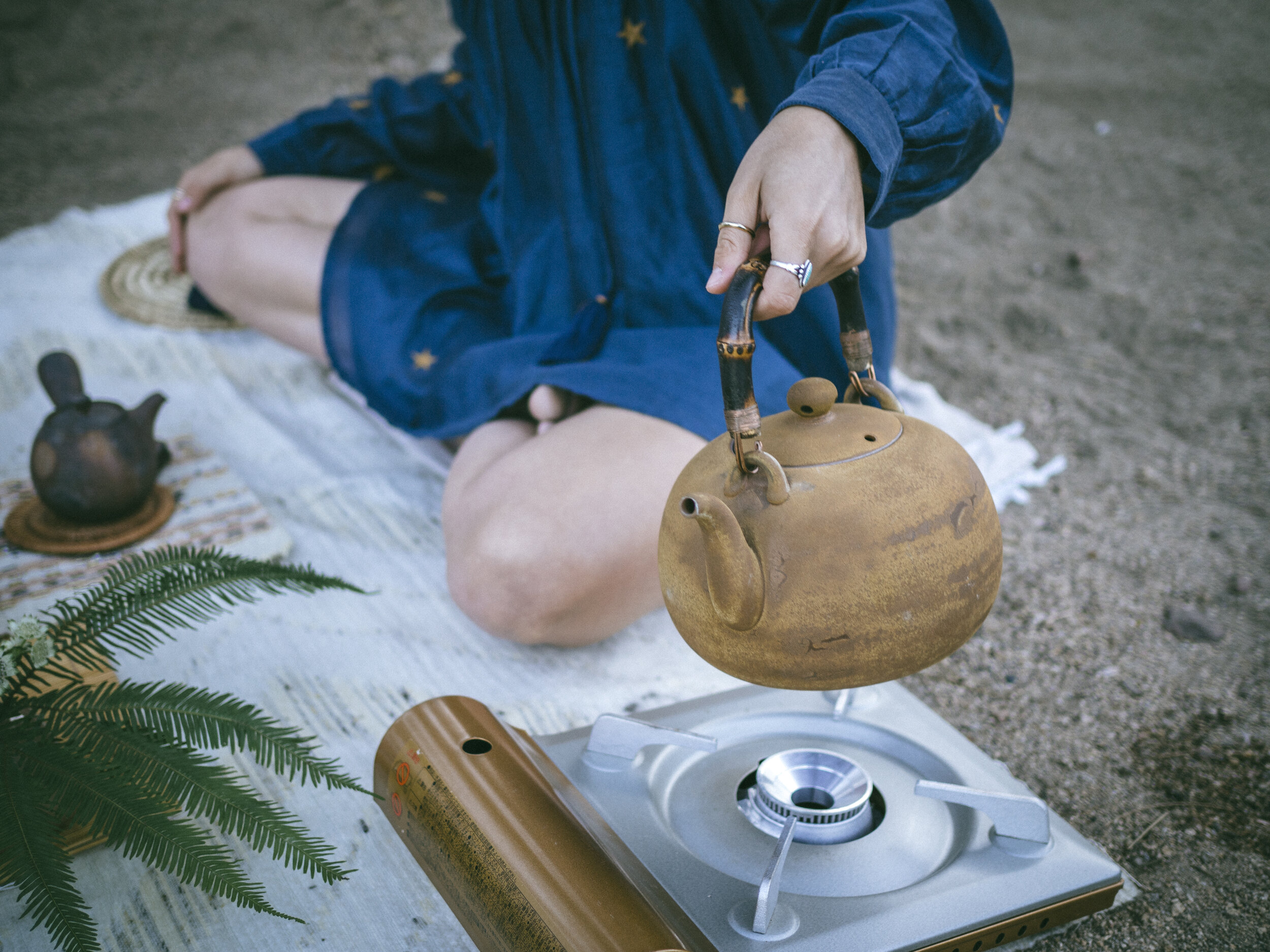 Virtual tea ceremony is perfect for those looking to explore the practice of personal tea ceremony but are not located in Colorado. In this experience, we will connect over zoom where we will dive into how to prepare for the ceremony creating sacred space together. You will be guided on how to practice the oldest tradition of leaves in a bowl with tea leaves and a bowl shipped directly to your home. Together we will sit and share bowls of tea together in silence before opening the space back up to questions and reflections.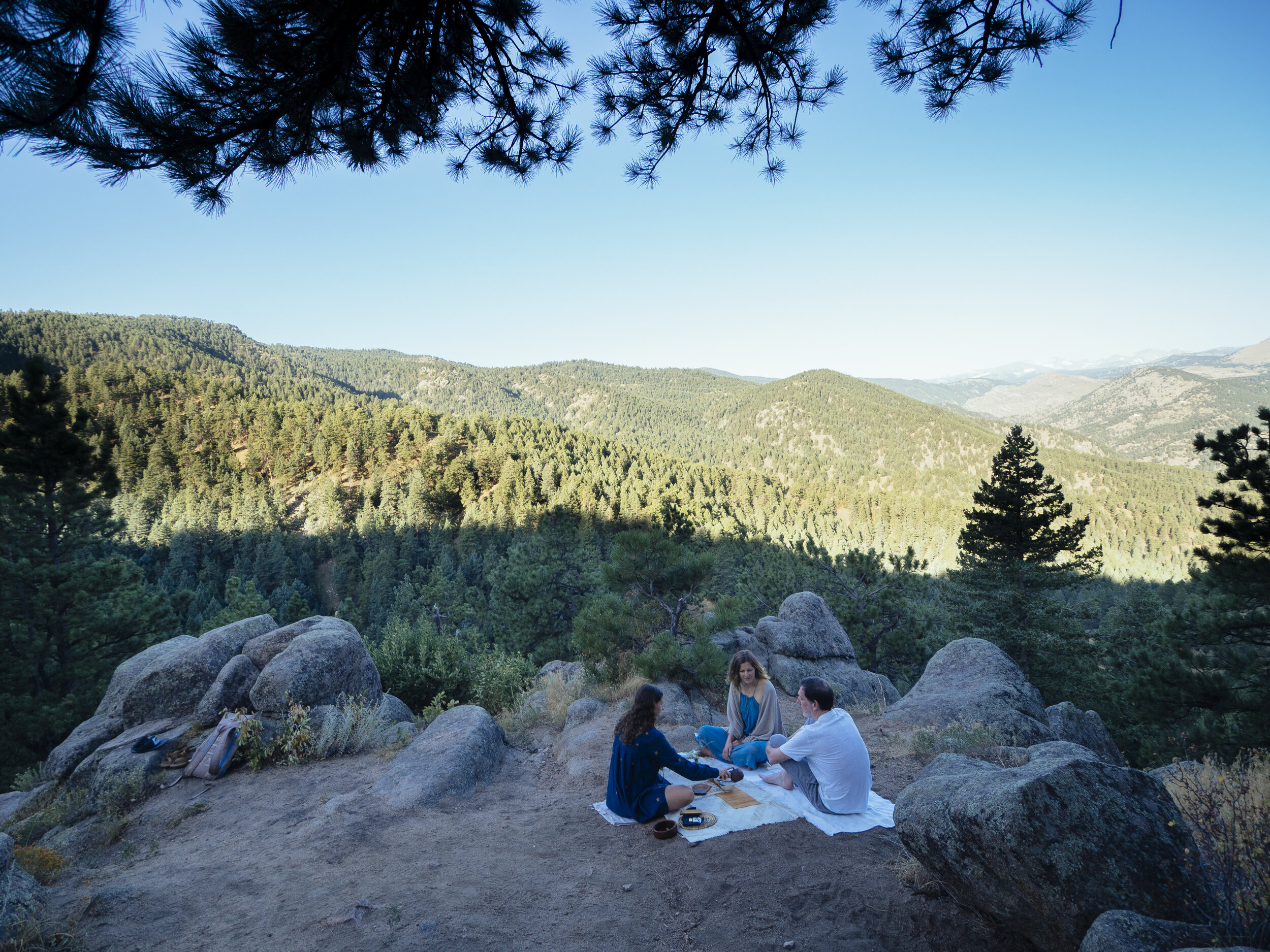 Excursion Tea Ceremony is an immersive sensory experience that will connect you to the power of our Mother Earth. Through slowly savoring tea in our cherished natural environments, this practice is an opportunity to explore nature as well as commune with our dear plant teacher Tea. Together we will hike into a beautiful location to share tea and honor all that lies around us. These experiences are perfect for small groups, dates and for those of you interested in engaging with nature in a new way!
Excursion Tea Ceremonies will resume in Spring 2020. Please contact me if you have any questions or personal request.
Forest Bathing
Tea Ceremony
Experience the connection to nature in a quiet gentle offering of Tea Medicine. Connecting you with yourself and those around you through beautiful bowls of tea. Forest bathing tea ceremonies are currently held in the Boulder, CO area. If you are interested in it coming to your town please contact us!
Forest Bathing Tea Ceremonies will resume in Spring 2020. Please contact me if you have any questions or personal request.
Meditation in the workplace has shown to improve employee performance, yet stepping away from your desk to be with your thoughts alone can be hard in a work environment. A workplace tea ceremony is a beautiful moving meditation to bring your team into the present through beautiful bowls of tea. Through this offering, we will gather your team together to take up to 1 hour to share in a deeply mindful personal and team-building experience.
Clients Include:
Give your clients a way to unplug and fully recharge in the escape of your beautiful hotel.
A tea ceremony transcends the stresses of everyday life; it brings us deeper into our oneness, our interconnectedness to Nature and those around us. In a world where tea is the second most consumed beverage, we already have a deep awareness of her spirit. Yet when we pair tea with moving meditation it allows us to find a deeper presence, awakening our inner knowing that we are Nature. Providing daily tea ceremony to your guest provides them the container to experience the tranquility, connection and inner wisdom they seek.